A huge thank you to R.G.Hardie & Co who sponsored the recent NPC summer school in Winchester, Virginia, by donating a beautiful set of PH01 Peter Henderson thistle engraved bagpipes.
The pipes were awarded to Ross Evans (pictured) whom the instructors deemed the most deserving student after a successful week of piping. These are Ross's first set of pipes and we wish him all the best in his future piping endeavours!
www.thepipingcentre.co.uk/
1.30pm Start (This is an approximate timing and will depend on the conclusion of the Junior Piobaireachd)
Grade 3 Piobaireachd
Helge Jeppesen (Ground only)
George Gordon
Grade 2 Piobaireachd
Douglas Maxwell
Grade 1 Piobaireachd
John MacLeod
Michael Graham
Bob Low
Directly followed by:
Grade 3 M/SR
Helge Jeppesen
Douglas Maxwell
Grade 2 M/SR
George Gordon
Grade 1 – MSR
Michael Graham
John MacLeod
Bob Low
www.thepipingcentre.co.uk/
(Page 1 of 2)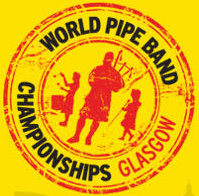 The random draw for the eight competition grades at the 2014 World Pipe Band Championships has happened, and bands around the world are closely examining their placement, which, in larger grades and pools of contestants, can have a substantial impact on their chances of doing well or leaving the park dejected.
A total of 23 bands are entered in Grade 1, and 22 in Grade 2, each grade broken into qualifying heats.
Reigning champions Field Marshal Montgomery will be pleased with their position, playing eighth in Grade 1 Heat 1, sandwiched between Bagad Cap Caval of Brittany and New Zealand's Canterbury Caledonian. The resurging 2010 World Champions, St. Laurence O'Toole of Ireland, perhaps have the best placement of all strong contenders for the title, second-last in the same heat as Field Marshal.
2014 European Champions Inveraray & District will be happy, on eighth in their 12-band heat, right after perennial contenders Peoples Ford Boghall & Bathgate Caledonia.
But those bands are almost certain to qualify for the final round the following day no matter where they are drawn, and it is not clear whether the final event will have its own draw after the results of the qualifier are known, or if original draw from the qualifier will be applied.
A band's placement in the order-of-play can also dramatically change its collective attitude over the month leading up to the August 15-16 World's, with a draw often either casting a pall on a band's hopes and dreams or putting a solid spring in their step as they approach the big day at Glasgow Green.
Perhaps not so fortunate of the Grade 1 bands vying for qualification are the likes of Canada's 78th Fraser Highlanders and Dowco Triumph Street, drawn second and third, respectively, in their heats, each with a perceived contender for the title in ScottishPower and Simon Fraser University immediately after them. But that juxtaposition can also be considered a big benefit, adjudicators able to compare them quickly with perceived strong-seeds.
"My initial impression was disappointment when I saw that we were drawn to play second – we've not had much luck with draws this year," said Shotts & Dykehead Caledonia Pipe-Major Ryan Canning. "However when I realised it was in the second heat, meaning that if we qualify we'd play seventh or eighth out of 12, I was happy with that. Of course we still have to play well enough to qualify first of all!
"While the draw overall is quite good for us (should we qualify for the final) I think the most balanced option would be to do a new draw once the qualifying bands are known. It would be very disappointing to have to play first on in both the qualifier and the final especially given that it's over four performances now and not just two."
"There are many ways to guess the potential psyche of the adjudicators' relative to your position of play on the day," commented 78th Frasers' Pipe-Major Doug MacRae. "Insofar as that goes, we have no reason to over-analyze our draw. From the band's point of view, though, we are happy to be playing between Fife and Power. As The 78th Fraser Highlanders continue to improve, it makes for an excellent opportunity to perform our music surrounded by two exceptional bands."
Adjudicators are always a factor, too, and this year the judges for the Grade 1 qualifying heats for the most part are likely to be considered free of . . .
VN:R_U [1.9.22_1171]
VN:R_U [1.9.22_1171]
www.pipesdrums.com/
The National Piping Centre > News > Competition > Thornton Games Piping Results 5th July 2014
Junior MSR
John Dew
Chris Happs
Euan Cameron
Mathew Clark
Junior Piobaireachd
Piobaireachd
Greg Canning
Craig Martin
Greig Wilson
Ross Miller
MSR
Calum Watson
Greig Wilson
Craig Martin
Greg Canning
www.thepipingcentre.co.uk/
(Page 1 of 1)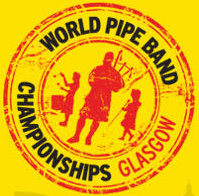 For many bands, tens of thousands of dollars hang in the balance as they await word of the random draw for order-of-play at the 2014 World Pipe Band Championships.
Playing early in a larger competition is almost always a disadvantage, and playing before 10 am in the notoriously unpredictable Glasgow weather can mean the difference between final glory and a whole lot of money and effort swirling down the toilet.
The all-important draw takes place on Wednesday, July 9th, at the RSPBA's headquarters at 45 Washington Street in Glasgow.
At the 2013 World Championships, the morning of the first day of competition saw cold, torrential, often humiliating, rain pelt bands that had to play between 9 am and 11 am, while bands in the afternoon performed under clear, sunny and warm conditions. Shotts & Dykehead Caledonia, Toronto Police and Simon Fraser University were some of the worst-hit, some players having a difficult time simply keeping their balance against the wind, much less finishing the performance.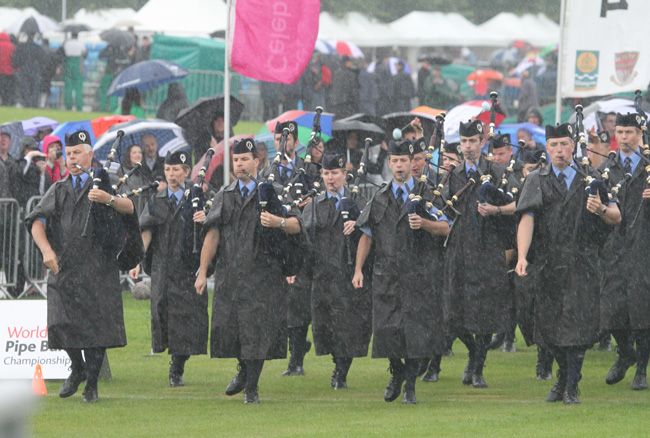 Simon Fraser University were among the bands that got the worst of the rain, playing at around 9 am on the first day of the 2013 World Championships.
But an early draw isn't necessarily all doom. If a lesser-established band is surrounded by favourites in the order-of-play, it can be an opportunity to compare favourably and get a bump up with the judges. And if stronger bands are grouped together, playing early becomes relatively moot.
This year's World Championships are on Friday, August 15th, and Saturday, August 16th. It will be the first time that the event has been held on a weekday. In Grade 1, 2013 World Champions Field Marshal Montgomery, after winning seven consecutive RSPBA major titles, suddenly look vulnerable following recent losses at the hands of Inveraray & District, ScottishPower and St. Laurence O'Toole at the European Championships on June 28th in Forres, Scotland, and St. Laurence O'Toole at the All-Ireland Championships at New Ross, Ireland, on July 5th.
Stay tuned to pipes|drums for analysis of and commentary on the order-of-play for the prominent grades in the 2014 World Pipe Band Championships.
VN:R_U [1.9.22_1171]
VN:R_U [1.9.22_1171]
www.pipesdrums.com/
(Page 1 of 1)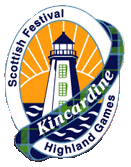 Kincardine, Ontario – July 5, 2014 – On a typically brilliant, sunny, warm summer day on the shore of Lake Huron at the 15th annual Kincardine Scottish Festival, the 78th Fraser Highlanders continued their unbeaten streak in Ontario with a first in the Grade 1 medley contest, with four firsts from the judges. Grade 2 saw only the new Greater Midwest Pipe Band play, unfortunately travelling from their Michigan home-base without another challenger in the grade. Ian K. MacDonald picked up another Piper of the Day award. Zack Miller was the Professional Drummer of the Day.
Bands
Grade 1 (medley, three competed)
1st 78th Fraser Highlanders (1,1,1,1)
2nd Peel Regional Police (ens.pref.) (3,3,2,2)
3rd Toronto Police (2,2,3,3)
Drumming: 78th Fraser Highlanders
Judges: Ken Eller, Glenna Mackay-Johnstone (piping); Greg Dinsdale (drumming); Jim McGillivray (ensemble)
Grade 2 (MSR, one played)
1st Greater Midwest
Stay tuned for further results and HD video from the pipe band events.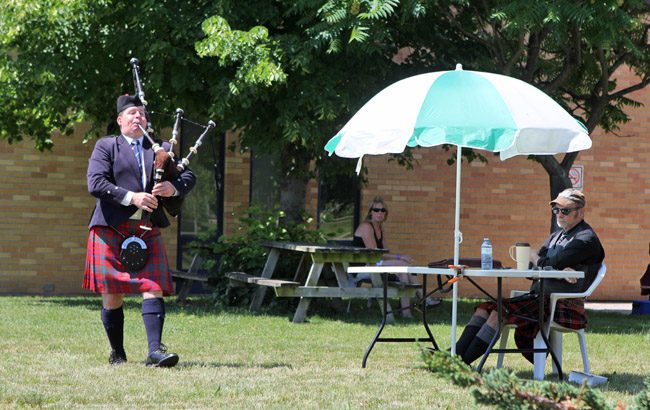 Ian K. MacDonald competing in the Professional March before adjudicator Jake Watson at the 2014 Kincardine games.
Professional Solo Piping (13 entered)
Piobaireachd
1st Dylan Whittemore
2nd Andrew Berthoff
3rd Nick Hudson
4th Ian K. MacDonald
5th Sean McKeown
6th Elizabeth Sheridan
Judge: Willie McCallum
March
1st Ian K. MacDonald
2nd Callum Harper
3rd Andrew Berthoff
4th Sean McKeown
5th Bredan Culver
6th Nick Hudson
Judge: Jake Watson
Strathspey & Reel
1st Ian K. MacDonald
2nd Nick Hudson
3rd Sean McKeown
4th Andrew Berthoff
5th MacGregor van de Ven
6th Callum Harper
Judge: Ken Eller
Freestyle
1st Ian K. MacDonald
2nd Steven Tripp
3rd Sean McKeown
4th Andrew Berthoff
5th MacGregor van de Ven
6th Brendan Culver
Judge: Jim McGillivray
Professional Solo Snare Drumming (six competed)
MSR
1st Zack Miller
2nd Neill Birkett
3rd Elizabeth Shaw
4th Chris Bell
5th Iain Bell
6th Cameron McKail
Judge: Steven Hill
Hornpipe & Jig
1st Chris Bell
2nd Elizabeth Shaw
3rd Zack Miller
4th Iain Bell
5th Cameron McKail
6th Neill Birkett
Judge: Greg Dinsdale
VN:R_U [1.9.22_1171]
VN:R_U [1.9.22_1171]
www.pipesdrums.com/
(Page 1 of 1)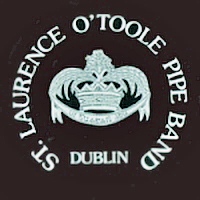 New Ross, Co. Wexford, Ireland – July 5, 2014 – St. Laurence O'Toole took home the 2014 All-Ireland Pipe Band Championship, beating 2013 World Champions and incumbent All-Ireland Champions Field Marshal Montgomery in both the MSR and Medley events at the annual contest at Town Park. Bleary continued its strong season by taking Grade 2 with straight firsts.
Grade 1 (three competed)
Medley
1st St. Laurence O'Toole (1,1,2,2)
2nd Field Marshal Montgomery (2,2,1,1)
3rd Cullybackey (3,3,3,3)
Judges: Bill Garrett, Michael Fitzgerald (piping); David Brown (drumming); Gordon Lawrie (ensemble)
MSR
1st St. Laurence O'Toole (ens.pref.) (1,2,1,1)
2nd Field Marshal Montgomery (2,1,2,2)
3rd Cullybackey (3,3,3,3)
Judges: Malcolm MacKenzie, Colin Moffett (piping); Ciaran Mordaunt (drumming); Joe Noble (ensemble)
Grade 2 (four competed)
1st Bleary & District (1,1,1,1)
2nd Manorcunningham (2,2,2,2)
3rd Arklow (3,3,4,3)
4th St. Finbarr's (4,4,3,4)
Judges: Malcolm MacKenzie, Colin Moffett (piping); Ciaran Mordaunt (drumming); Joe Noble (ensemble)
VN:R_U [1.9.22_1171]
VN:R_U [1.9.22_1171]
www.pipesdrums.com/
(Page 1 of 2)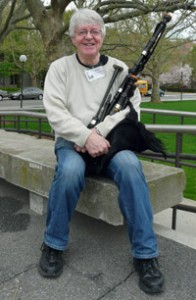 Dr. William Donaldson
Since 2000, Dr. William Donaldson has worked with pipes|drums to create an annual analysis of the piobaireachds picked by the Piobaireachd Society for the major competitions, and continues the landmark Set Tunes Series – free to all readers of the magazine – again in 2014.
With close to 150 tunes, each meticulously presented in the various settings that preceded the Piobaireachd Society's ongoing attempt to standardize the compositions, the 2014 Set Tunes Series numbers six tunes, as most of those set for the Senior, Gold Medal and Silver Medal competitions at the Argyllshire Gathering at Oban, Scotland, and the Northern Meeting at Inverness, Scotland, have already been presented.
The totality of the Set Tunes Series with multiple settings of each tune represents the largest single compendium of piobaireachd anywhere.
The tunes in this year's series:
"Abercairney's Salute"
"The Battle of Waterloo"
"The Big Spree"
"Lament for the Departure of King James"
"MacLeod of Raasay's Salute"
"The Red Hand in the MacDonalds' Arms"
A native of Aberdeen, Scotland, William Donaldson was a pupil for nine years with the legendary Robert Nicol. As a leading academic expert on Scots musical composition and song, Donaldson has published several works on Highland piping, including the seminal work, The Highland Pipe and Scottish Society, a critical study of the evolution of piobaireachd and the influence of a few aristocratic power-brokers to control the music for competition.
We launch the 2014 Set Tunes Series with a brief interview with William Donaldson.
pipes|drums: The Set Tunes Series is now in its fourteenth year. It's one of the bigger collections with more than 150 tunes.
William Donaldson: Yes. It is a good start, but providing reliable, authentic scores only takes us so far. They have to be interpreted and played, realized with all the musical talent we know our current cohort of professional players possesses (obvious from the brilliant way they handle the light music). But there are obstacles to this, as we all know, mainly the . . .
VN:R_U [1.9.22_1171]
VN:R_U [1.9.22_1171]
www.pipesdrums.com/
(Page 1 of 1)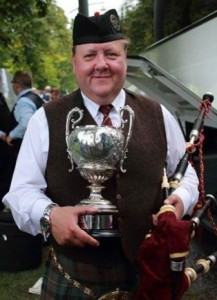 Kenny MacLeod
With nearly a total of a quarter-century of service with the Glasgow Skye Association Pipe Band, Pipe-Major Kenny MacLeod will step down from the post after the 2014 World Pipe Band Championships. He latest stretch with the band was four years, when he returned to help rebuild the then-struggling Glasgow-based Grade 2 band.
Before the fall of 2010, MacLeod previously was a member and pipe-major of the band for some 20 years, playing in the band with other members of his family.
Under MacLeod's most recent direction the band has returned to the height of Grade 2 on a world level, last year consistently placing in the top three at major championships, including a third at the 2013 World Championships. In the 1990s he brought the band for a brief period to the Grade 1 level.
"I've played in the Skye for a total of 24 years over two stints, and enjoyed every minute of it," MacLeod said, "but it was always the plan that I was coming in this time to steady the band on a short-term basis, and the long-term future of the band was always the most important thing for me. When I joined we were very low in pipers and we've built that back up to healthy numbers again. We've replaced the drums, jackets and waistcoats and kilts and generally improved the uniform. Perhaps most importantly the band is financially secure."
The band has already started a search for MacLeod's successor, encouraging those interested to contact the band's treasurer, Dougie Orr, or secretary, Lesley Jamieson.
"It really is a great prospect for a new pipe-major to come in and look at things as a long-term project. I decided that it was better to announce now that I would be stepping down at the end of this season, so any candidates could contact the band for more details, and then have time to think about their future, well before the end of their season. I will play absolutely no part in the selection process and it will be the band members who will pick the next pipe-major."
So far in 2014 Glasgow Skye has not fared quite so well at majors, with a fifth-prize at each of the British and European championships.
"The season isn't over, though, and I hope we can improve our placings after some mixed results so far," MacLeod continued.
The band recently travelled to California to compete at the Costa Mesa Highland Games.
VN:R_U [1.9.22_1171]
VN:R_U [1.9.22_1171]
www.pipesdrums.com/
(Page 1 of 1)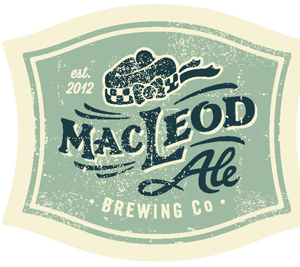 It might not yet be the Park Bar or the Snaffle Bit in terms of piping lore, but the piper-owned MacLeod Ale Brewing Company in sunny Van Nuys, California, makes its own beer, each named for famous pipe tunes.
After years of planning, the new brewpub officially opened on June 23rd to much fanfare and acclaim and the sound of the Grade 3 Pasadena Scots Pipe Band, in which owners Jennifer Febre and Alastair Boase play, with Febre as pipe-major.
Febre and her husband, with the help of a master brewer who moved to the Los Angeles area from Rhode Island, make traditional British cask ales, each pulled from tap handles custom-made by McCallum Bagpipes of Kilmarnock, Scotland. The company's logo features a piping and drumming inspired image of a glengarry hat.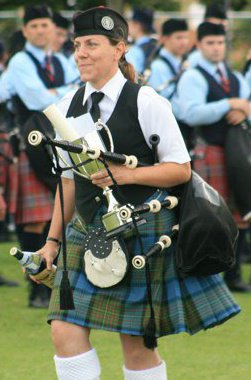 Jennifer Febre
"The King's Taxes" (a 60-shilling), "The Little Spree" (a Yorkshire pale ale), "Old Toasty" (dark mild), "The Session Gap" (a bitter), and "Jackie Tar" (a stout) are a few of the handcrafted libations on offer
"Originally the idea was to get a brewery to sponsor the Pasadena Scots," Febre said, "but I'm too shy to ask a brewery for money, so I decided to start my own."
The new venture has been met with wide acclaim and positive reviews from highbrow beer publications and even the LA Times newspaper, which said, "The tasting room . . .is will be welcomed by the beer lovers in the [San Fernando] who've been growing thirsty while craft breweries sprouted from downtown to the South Bay."
Due to local ordinances, live music is not allowed in the brewpub, but, as with the Snaffle Bit and Park Bar, exceptions might be made when someone gets out a set of pipes . . . or tries to play one of the tap-handles.
VN:R_U [1.9.22_1171]
VN:R_U [1.9.22_1171]
www.pipesdrums.com/