(Page 1 of 1)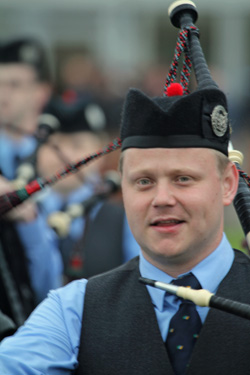 Callum Beaumont competing with ScottishPower at the 2014 World Pipe Band Championships.
With the Silver Chanter, both Gold Medals and the Northern Meeting Clasp in his bulging trophy-case, Callum Beaumont has accomplished more at age 25 than all but an infinitesimal number of pipers will in a lifetime and, at the rate he's going, he might well shatter all records before he hangs up his brogues.
And now the Bo'ness, Scotland-resident Beaumont is heading out on his own, with the launch of "Callum Beaumont Piping," offering comprehensive private tuition, group workshops and piping recitals worldwide.
In order to do sustain his personal business and brand, Beaumont has broken away from his instructor role with the National Piping Centre. And he has also taken a part-time job with the acclaimed Dollar Academy in Dollar, Scotland, as a piping teacher in that institution's extensive and successful program that annually boasts one of the top Juvenile bands in the world.
"It has been something that I have been considering for the last year or two," Beaumont said. "I was very fortunate to land a part time piping instructor position at Dollar Academy around a month ago so felt like this was the best time for me to go for it. I also feel this gives me the opportunity to work on other interests and explore other ideas that I have for my piping."
His last day with the National Piping Centre was October 17th.
"I really enjoyed my time at the Piping Centre over the last 6 years and gained great experience and met many good friends within."
His experience in top pipe bands is extensive as well, and includes stints with Simon Fraser University, Shotts & Dykehead Caledonia, Inveraray & District and, last year, ScottishPower.
Beaumont said that he is also working on a solo recording that he plans to have ready some time in 2015.
VN:R_U [1.9.22_1171]
VN:R_U [1.9.22_1171]
www.pipesdrums.com/
(Page 1 of 1)

As pipes|drums recently anticipated, the Pipers & Pipe Band Society of Ontario has promoted the Ottawa Police Services Pipe Band to Grade 1, after an unbeaten season in Grade 2, and several successful challenges against established Grade 1 bands, including narrowly missing winning the four-band Grade 1 competition at the Georgetown Highland Games, with a tie for first broken by ensemble.
Also moving up is Paris-Port Dover to Grade 2, the Rob Roy Pipe Band of Kingston, Ontario, to Grade 3, and both the Hamilton Police and Lindsay pipe bands from Grade 5 to Grade 4.
The PPBSO did not downgrade any bands.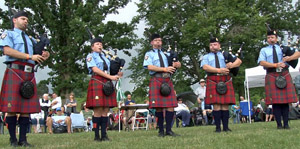 Ottawa Police competing in 2014.
The move of the Ottawa Police also comes approximately a year after the band reportedly requested to be upgraded to Grade 1, but was denied by the PPBSO. The Ontario society enacts grading first by recommendation of its Music Committee and then after ratification by the organization's Board of Directors.
"We are very proud of our development as a band, and we are committed to continuing our progress in Grade 1," Ottawa Police Pipe-Major Andrew Hayes said. "Without a doubt, the ability to challenge up against Grade 1 bands in Ontario has contributed enormously to our growth, both in terms of experience and confidence. We have a dedicated group, and we look forward to next summer."
Hayes added that his band does not plan to compete at the 2015 World Pipe Band Championships, and instead will "focus on development." He said that they aim to go in 2016.
The addition of the Ottawa Police to Grade 1 brings the total number of premier-grade bands to 28. Only two years ago the total number worldwide was 38. There are now four certified Grade 1 bands in Ontario, and a total of seven in Canada.
Paris-Port Dover brings Ontario's Grade 2 bands to only two, with the only other being the 400 Squadron under new Pipe-Major Matt MacIsaac.
VN:R_U [1.9.22_1171]
VN:R_U [1.9.22_1171]
www.pipesdrums.com/
(Page 1 of 1)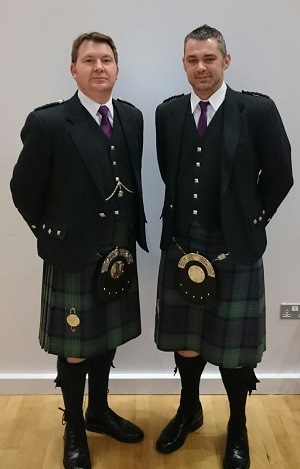 Torphichen & Bathgate Pipe-Major William Brown (L) and Leading-Drummer Callum Firth.
After five years on the job, Stuart Shedden packed it in as pipe-major of Grade 2 Torhpichen & Bathgate, giving way to pipe-sergeant, William Brown, who is described by the band as a "popular choice."
Shedden, who took the reins of the band in 2009 when it was in Grade 1, enjoyed some success with the group, attracting more personnel, including renowned solo piper Gordon Walker, but the band was not able to regain Grade 1 status and was in and out of the prizes in Grade 2 for most of the time.
A statement from band spokesperson Graham Clark said, "The band see this as the natural progression and work has already started in preparation for the 2015 season. As a band, we are delighted that William has accepted the position and we are excited by his approach and drive. He is very motivated and ambitious and is looking to use this, along with his considerable experience, to lead the band back to competing at Grade 1 level."
Clark said that Shedden's decision to step down was based mainly on his desire to commit more time to judging solo piping competitions. Stuart Shedden had an excellent solo career, among other prizes winning the Highland Society of London's Gold Medal at the Northern Meeting in 1998.
In 2014 the band won Grade 2 at the British Championships, was third at the UK, European and Scottish championships, but fell to seventh overall at the World's.
Torphichen & Bathgate receives financial support from Matt Purdie & Sons, allow the band to invest in equipment and maintain its Novice Juvenile band, which Shedden worked to start from scratch in 2010. The young band competed for the first time in 2014 and now works to channel players into the Grade 2 band.
The Grade 2 band practices at Armadale Academy in Armadale, West Lothian, Scotland, and stressed that, like all bands, it welcomes interested pipers and drummers.
VN:R_U [1.9.22_1171]
VN:R_U [1.9.22_1171]
www.pipesdrums.com/
(Page 1 of 1)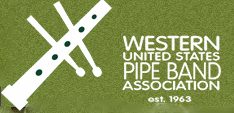 There's more good news for the pipe band scene in western North America with the promotion of three bands to Grade 2 by the Western United States Pipe Band Association.
From Grade 3 the WUSPBA has promoted the Bushmills Irish Pipers of San Francisco, the Queen City Pipe Band of Denver, and the Wasatch & District Pipe Band of Bountiful, Utah, to the penultimate grade.
The moves come on the heels of three additions to Grade 2 in Alberta, injecting additional life into a grade that has been struggling to maintain viability in other areas.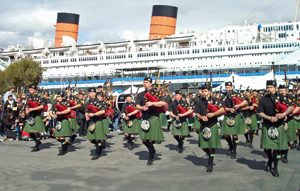 Bushmills Irish Pipers of San Francisco competing at the 2014 Queen Mary competition in Long Beach, California.
"We couldn't be more pleased with the decision," Queen City Pipe-Major James Cuthill said. "The band is relatively new, and we've come a long way since our formation in 2011. We are especially pleased to be the first band in Colorado to make this grade. We will be going into the 2015 season with at least 20 pipers, eight sides, five tenors, and a bass. All but two live in Colorado, and we are proud to make a name for ourselves with dedicated local musicians."
Queen City and Wasatch are the highest graded bands even from Colorado and Utah, respectively, while Bushmills Irish Pipers continue a 50-year tradition of top-grade bands from San Francisco, joining cross-town rivals Prince Charles in Grade 2.

Queen City Pipe Band of Denver.
The Irish Pipers of San Francisco was started in 1932 and claims to be "the oldest continuously active Irish pipe band west of the Mississippi River."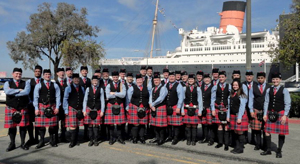 Wasatch & District of Bountiful, Utah, at the 2014 Queen Mary contest.
While the western part of the continent has been boosted, Grade 2 in Ontario continues to languish. The Grade 2 Ottawa Police Services Pipe Band is widely expected to be promoted to Grade 1 after competing up successfully at several Ontario competitions in 2014. It is also anticipated that the Grade 3 Paris-Port Dover Pipe Band will be upgraded, joining only the 400 Squadron in Grade 2. The Pipers & Pipe Band Society of Ontario has not disclosed upgrades made by its Music Committee.
Cuthill added, "I hope our grading may attract other bands to consider traveling to compete in Colorado. We will make it to World's when we feel we will be a real contender on that stage, but want to prove ourselves at home first."
VN:R_U [1.9.22_1171]
VN:R_U [1.9.22_1171]
www.pipesdrums.com/
(Page 1 of 1)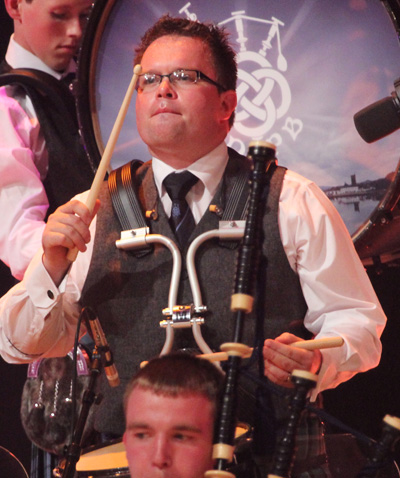 Steven McWhirter in a 2013 concert photo.
Glasgow – October 18, 2014 – After three initial qualifying heats totaling 53 contestants, two semi-final heats comprising 29, and then a final round of 12, Steven McWhirter of Inveraray & District emerged the 2014 World Solo Drumming Champion at the RSPBA-run event at Glasgow Caledonian University. It was the fourth consecutive win of the award for McWhirter and his fifth title overall. A quarter of the finalists belonged to the St. Laurence O'Toole Pipe Band of Dublin. It was the first time in nearly 30 years that Simon Fraser University Pipe Band Leading-Drummer Reid Maxwell did not attend the event.
The MSR score is supposed to double the importance as that of the Hornpipe & Jig, and the lowest overall score wins each event and overall. But the RSPBA has used a system in which the MSR score is doubled and then tallied, rather than halved. If the MSR points halved system were used, McWhirter would still be the clear winner, but Blair Brown  would finish second, Michael McKenna third
Overall
1st Steven McWhirter (14)
2nd Michael McKenna, St. Laurence O'Toole (26)
3rd Blair Brown, Shotts & Dykehead Caledonia (39)
4th Stephen Creighton, St. Laurence O'Toole (45)
5th Chris McNicol, Inveraray & District (52)
6th Jake Jørgensen, ScottishPower (60)
7th Craig Brown, Peoples Ford Boghall & Bathgate Caledonia (63)
8th Eric Ward, Greater Glasgow Police Scotland (67)
9th Grant Cassidy, St. Laurence O'Toole (68)
10th Jason Hoy, Cullybackey (72)
11th Jonathan Hoy, Cullybackey (96)
12th Grant Maxwell, Simon Fraser University (100)
MSR
1st Steven McWhirter (1,1,3 x 2 = 10)
2nd Michael McKenna (2,3,1 x 2 = 12)
3rd Stephen Creighton (3,4,5 x 2 = 24 )
4th Blair Brown (4,5,6 x 2 = 30)
5th Grant Cassidy (5,2,12 x 2 = 34)
6th Jake Jørgensen (8,9,2 x 2 = 38)
7th Chris McNicol (6,6,8 x 2 = 40)
8th Jason Hoy (7,7,7 x 2 = 42)
9th Craig Brown (10,8,4 x 2 = 44)
10th Eric Ward (9,11,9 x 2 = 58)
11th Jonathan Hoy (12,10,11 x 2 = 66)
12th Grant Maxwell (11,12,10 x 2 = 66)
Judges: Ciaran Mordaunt, David Brown, Jim Baxter
Hornpipe & Jig
1st Steven McWhirter (1,2,1 = 4)
2nd Blair Brown (3,1,5 = 9)
3rd Eric Ward, Greater Glasgow Police Scotland (2,5,2 = 9)
4th Chris McNicol (5,4,3 = 12)
5th Michael McKenna (4,3,7 = 14)
6th Craig Brown (8,7,4 = 19)
7th Stephen Creighton (7,6,8 = 21)
8th Jake Jørgensen (6,10,6 = 22)
9th Jonathan Hoy (12,8,10 = 30)
10th Grant Cassidy (10,11,9 = 30)
11th Jason Hoy (10,11,9 = 30)
12th Grant Maxwell (11,12,11 = 34)
Judges: Joe Noble, Gordon Parkes, Sandy Steele
The MSR score is worth twice that of the Hornpipe & Jig, and the lowest overall score wins each event and the overall championship.
But calculation is made with MSR score doubled, rather than halved, as it should be with a fewer-points-are-better system.
If the MSR points halved system were used, McWhirter would still be the clear winner, but the rest of the overall result would change, thus:
1st Steven McWhirter (9)
2nd Blair Brown (24)
3rd Michael McKenna (27)
4th Chris McNicol (32)
5th Stephen Creighton (35)
6th Eric Ward (38)
7th Jake Jørgensen (41 – MSR pref)
8th Craig Brown (41)
9th Grant Cassidy (47)
10th Jason Hoy (51)
11th Jonathan Hoy (63)
12th Grant Maxwell (67)
The 2013 overall result would have had Barry Wilson second and Blair Brown third if the MSR were accurately reflected twice the value by halving the points.
At the prize giving, there was confusion about the accuracy of the final result after the RSPBA issued summary sheets showing the wrong judges on each event. But it was quickly determined that the overall result was correct using the system of doubling the MSR points.
VN:R_U [1.9.22_1171]
VN:R_U [1.9.22_1171]
www.pipesdrums.com/
(Page 1 of 1)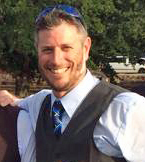 Gareth Rudolph
Johannesburg – October 11, 2014 – There were four events at the P-M George Ackroyd Challenge Solo Piping Contest held at The View in Johannesburg, and Gareth Rudolph won the lot. Craig Paxman was the overall winner in the George Ackroyd Amateur competitions. The event is named for the late Scotland-born piper who immigrated to South Africa and helped to establish piping and drumming in that country. The amateur event was added this year.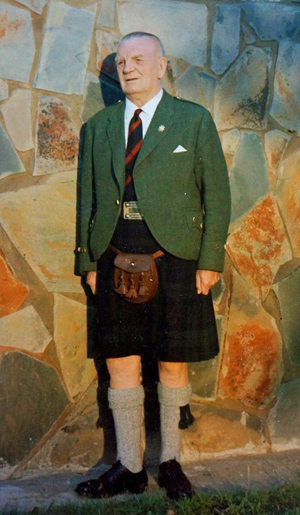 The late Pipe-Major George Ackroyd
Piobaireachd (eight competed)
1st Gareth Rudolph
2nd Brandon Holz
3rd Chris Couperthwaite
3rd Alex Jeanrenaud
Judges: Tommy Knobel, Struan Young
March (14 competed)
1st Gareth Rudolph
2nd Alex Jeanrenaud
3rd Michael Langley
4th Nick Taitz
Judge: Rob du Toit
Strathspey & Reel (14 competed)
1st Gareth Rudolph
2nd Nick Taitz
3rd Alex Jeanrenaud
4th Chris Couperthwaite
Judge: Roger Davies
P-M Allan Watters Jig Challenge: Gareth Rudolph
VN:R_U [1.9.22_1171]
VN:R_U [1.9.22_1171]
www.pipesdrums.com/
(Page 1 of 1)
The set-up for the 2015 World Pipe Band Championships will repeat that of 2014, with the Grade 1 qualifying competitions held on Friday and all other qualifiers and finals on Saturday.
According to the organization, the Royal Scottish Pipe Band Association conducted a review of the 2014 format and concluded that it should remain the same, requiring all Grade 1 bands on Friday to compete in both a Medley and March, Strathspey & Reel event, with bands split into two qualifying section, and six finalists from each section moving on to compete in the 12-band Grade 1 Final of Saturday.
The 2015 World's will be held on August 14th and 15th at Glasgow Green in Glasgow.
The August 2014 contest was the first time that the competition held events on the Friday. The previous year the World's was held in a Saturday-Sunday format.
Competing on a Sunday was unpopular with bands travelling from abroad as it forced working pipers and drummers to add an additional day of vacation time to their World's trip. The Sunday schedule also went against the religious beliefs of some pipers and drummers.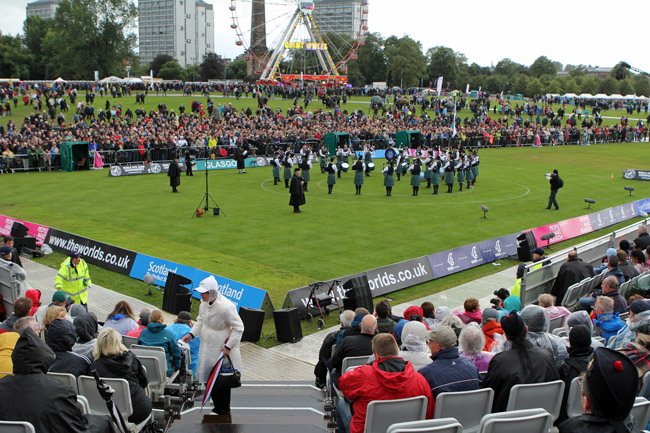 Inveraray & District competing in the main arena on the Saturday of the 2014 World Pipe Band Championships.
The Saturday at the 2014 World Championships saw the Grade 1 Final complete by 3pm, leaving a considerable break between it and the closing ceremonies, providing time enough to hold the Grade 2 Final in the main arena before a mostly empty grandstand.
The use of the Friday caused some disruption to the massive Piping Live! Glasgow International Festival of Piping, with a noticeable decline in momentum during the week due to Grade 1 pipers and drummers using the Thursday to focus on the Friday qualifier.
Some attending the 2014 World's remarked that the contest should simply revert back to a one-day competition in which all Grade 1 bands compete in both the MSR and Medley, saying that the qualifier and final format is unnecessary.
pipes|drums created a popular video from last year's competition, 2014 World Pipe Band Championships Sights & Sounds, which works to capture the essence of the two-day event.
VN:R_U [1.9.22_1171]
VN:R_U [1.9.22_1171]
www.pipesdrums.com/
(Page 1 of 1)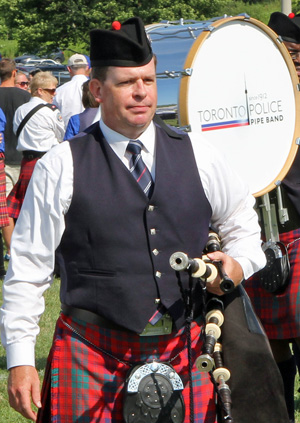 Ian K. MacDonald in a 2013 photo.
Pipe-Major Ian K. MacDonald of the Grade 1 Toronto Police Pipe Band is in good spirits and resting comfortably after a minor heart attack in Newmarket, Ontario, on the evening of October 13th.
One of the world's pre-eminent solo pipers, MacDonald experienced discomfort in his chest after playing sports with his kids on the Canadian Thanksgiving weekend. Being a long-serving police officer, MacDonald decided to contact emergency services when the pain did not subside, and was taken to cardiac care at a local hospital.
According to Toronto Police Pipe Band Pipe-Sergeant Sean McKeown, Emergency Medical Services and hospital staff were quick to identify the problem and treat MacDonald.
"No permanent damage was detected, and he is showing signs of a positive recovery," McKeown said. "I was with him today, and he is in good spirits, and feeling good considering the circumstance. He had a smile on his face, and was already talking about the new set of pipes he just bought!"
McKeown added that the prognosis is good, but that he will need some down-time, but he appreciates the thoughts and concern from his friends.
MacDonald has led the Toronto Police Pipe Band for the better part of the last 20 years, and manages the overall Toronto Police pipe band organization. In addition to his work with the band, he is one of the world's top solo pipers, one of the few eligible to compete in the Silver Star March, Strathspey & Reel at the Northern Meeting. MacDonald has frequently been in the prize lists in the Highland Society of London's Gold Medal competitions at Oban and Inverness, and was second in the event at the Argyllshire Gathering this year.
In 2004 Field Marshal Montgomery Pipe-Major Richard Parkes suffered a stroke, but made a full recovery, going on to lead his band to another six World Championships and a few dozen other major titles.
On behalf of the piping and drumming world, we wish Ian K. MacDonald a speedy and full recovery.
VN:R_U [1.9.22_1171]
VN:R_U [1.9.22_1171]
www.pipesdrums.com/

The Shotts pipers and drummers had a busy week preparing for the World Pipe Band Championships but a number of our members were extra busy by being involved with additional events as a part of the Piping Live! festival.
The events of the week kicked off with the prestigious Masters' Solo Piping Competition held in the National Piping Centre. Shotts Pipe Sergeant Glenn Brown competed in the event and walked away with a fourth in the piobaireachd having played "MacNeil of Barra's March."
Tuesday saw two Shotts drummers, David Henderson and David Ross, launching a new drumming tutor entitled "In Your Hands" in the National Piping Centre. The two Davids run a drumming business appropriately entitled "D2 Percussion" that provides both education and products for up-and-coming drummers. The book launch was well attended and featured performances by West Lothian Schools Novice Juvenile and North Lanarkshire Schools Juvenile pipe bands.
Monday through Thursday of Piping Live! featured four qualifiers for the Pipe Idol competition with the final on Thursday featuring the four qualifier winners. The Pipe Idol competition invites some of the world's best young pipers to perform and compete in front of a large audience and this year Shotts and Dykehead Caledonia Pipe Band had three competitors selected to compete; Ailis Sutherland, Andrew Clark, and Iain Crawford. Sadly, none qualified for the final but all gave musical performances of which they should be proud.
Wednesday saw sunny skies and the much anticipated Drumming for Drinks competition held at Strathclyde University's Todd Bar. Two Shotts drummers competed in the event, Gareth McLees and Cameron Bennett. Gareth was accompanied on snare by Shotts piper Andrew Bova on bagpipes/whistle and Shotts piper Dan Nevans on electric guitar, with local Glasgow musicians Robert Bowden and Jamie Matheson providing electric bass and drum kit. Cameron was accompanied on tenor by Shotts piper Ailis Sutherland on smallpipes and Shotts snare drummer, and former Drumming for Drinks winner, Graham Brown. All the competitors played for a sold out audience but in the end it was McLees who took both the snare and overall prizes, thus earning the title "Lord of the Todd."
Dan Nevans, Andrew Bova, and Gareth McLees perform their set at Drumming for Drinks.
Gareth takes a selfie with the audience after his performance.
Ailis Sutherland, Cameron Bennett, and Graham Brown performing at drumming for drinks.
Ailis Sutherland, Cameron Bennett, and Graham Brown performing at drumming for drinks.
The winning team from Drumming for Drinks 2014, Dan Nevans, Andrew Bova, Jamie Matheson, Robert Bowden, and "The Lord of the Todd" Gareth McLees.
The Shotts drum major and midsection members take a moment to pose for a photo after volunteering at Drumming for Drinks. From left to right they are Iona Burns, Jenni Clark, Alison Gilmour, Beth McNeil, Louise Augaitis, and Fiona Wilson.
West Lothian Schools Novice Juvenile Pipe Band performs at D2 Percussion's book launch.
Ailis Sutherland performs her set at Pipe Idol.
.
www.sdcpb.com/

The World Pipe Band Championship is undoubtedly the most important day on the calendar of pipe bands and as such is a real test of the band's progress. This year again featured a two day Worlds format but unlike 2013 the qualifier this year was held on the Friday instead of the Saturday and the final on Saturday instead of Sunday.

The Friday MSR qualifier began at 11:00AM and Shotts was on second at 11:10AM, meaning an early arrival at the park for band members. Members mingled, having their morning bacon rolls and tea, waiting for the day's playing to begin. After a relatively short warm up and tune up the band played the number two MSR, The Links of Forth, Atholl Cummers, and The Smith of Chilliechassie. In the afternoon the band played their number two medley, beginning with The Blockbuster. Conditions were fair throughout the day and Shotts was pleased to go through to the final.
After qualifying on Friday the band took a moment before dispersing to thank those who help behind the scenes with the day to day operations of the band, including Jim Bruce, Maureen Gilmour, and Ewan McAllister. A special thanks went to long time Shotts player, former pipe major, and current supporter Sandy Bell, who this year celebrated 50 years with the band. Sandy played pipes in the band for thirty years, two of which he spent as pipe major, and then moved into a supporting role as the band's chairman and treasurer. The band would like to thank Sandy for his many years of service to Shotts and Dykehead Caledonia Pipe Band and wish him well in the years to come.
Saturday was a return to the business of the Worlds, the band playing eighth on in both the MSR and medley competition. Conditions were poor, with continual rain through the day, but nothing compared to the biblical downpour of the previous year! Both performances went well and the band eagerly awaited the results of the day.
The first prize announced in Grade 1 was that of the world drumming title, which Shotts and Dykehead won for the 29th time in the band's history. This was Lead Drummer Jim Kilpatrick's 16th win of the sash as leading drummer of Shotts and Dykehead. This win comes at the end of a season where the drum corps had placed consistently in the prize list but had been just shy of nabbing the prize. The band came in fifth overall, and is proud of the progress made this year. This marks the first time since 2010 the band has placed in the Worlds prize list and the first time the band has had a prize under Pipe Major Ryan Canning at the Worlds. Performances from the World Pipe Band Championships 2014 can be found in the links below.
The Shotts pipe corps tunes up before the qualifier MSR on Friday.
Shotts drum corps warms up in front of a crowd of onlookers.
Shotts walks up to the line for the medley qualifier.
Lead Drummer Jim Kilpatrick presents a bottle of whisky and personalized decanter to Sandy Bell in honour of 50 years service to the band.

The band walks into the circle during a very wet World Pipe Band Championships.

The drum corps leads the band off massed bands after winning the World Pipe Band Championships grade 1 drumming.
Entertaining the crowd with a drum fanfare.
Pipe Sergeant Glenn Brown, Blair Brown, Megan Canning, Graham Brown, and Ryan Canning.
Andrew and Jenni Clark pose with the trophies of the day after their first grade 1 Worlds performance.
The 2014 World Pipe Band Championships winning drum corps.
.
www.sdcpb.com/